Hey fellow guitar dorks, gear nerds and all other interested web surfers! I have been working like mad on this album so I thought I'd give myself the evening off and make a fun post :)
One of my favourite things to do is research what other guitar players are using/doing to get their "sound," or what gear they used on a certain album. So, in that nature, I though I would pull back the curtain, and share what I am currently using on this album.
So, this is what I'm using!
There are 5 guitars I am currently using:
#1 Custom Build DG Super Strat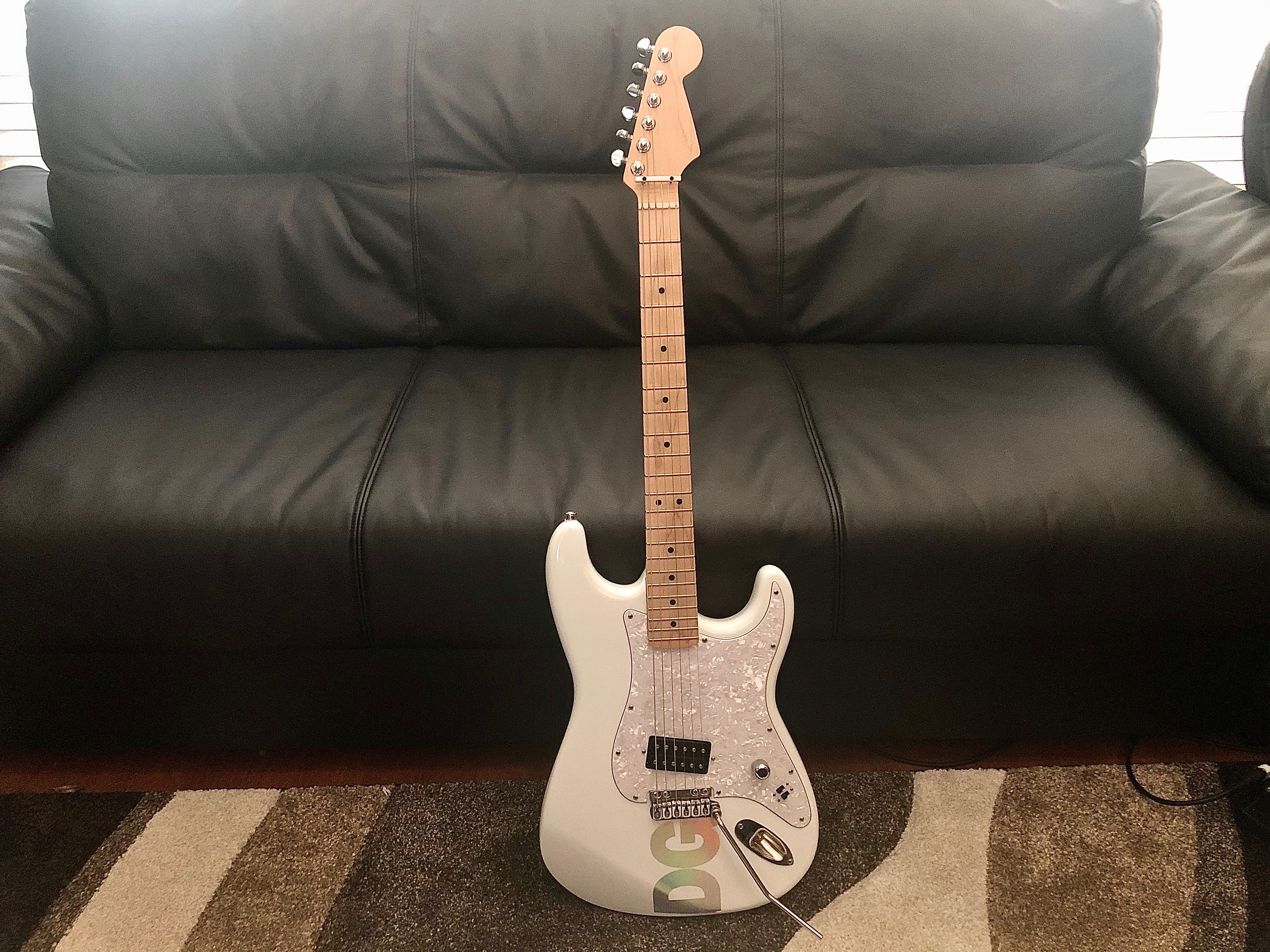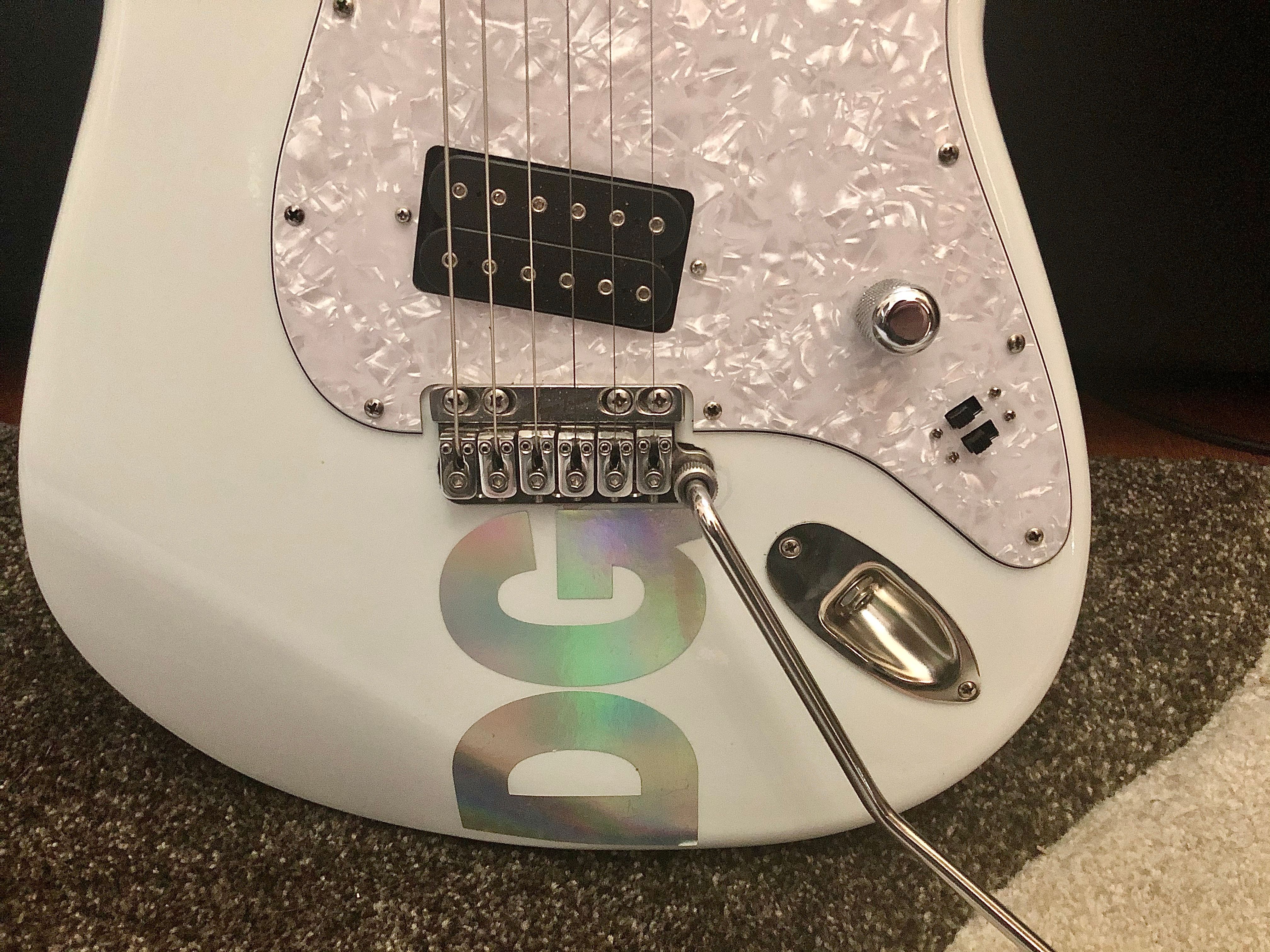 This is a custom build I made specifically for this album.
-The body is an older Mexico made Fender that has been through quite a few different set-up's I've tried. Painted it myself (Corvette White paint from GM)
-Neck is an unfinished neck I purchased from Warmoth with huge frets and a compound radius.
-Trem/Bridge is the V1 from VegaTrem
-Dimarzio Super Distortion F spaced Bridge w/ a 1 Meg pot. 2 black slide switches control coil tap and series/parallel (I love to mess with guitar wiring)
-Grover machine heads 
#2 Ibanez Prestige J-Craft RG2550Z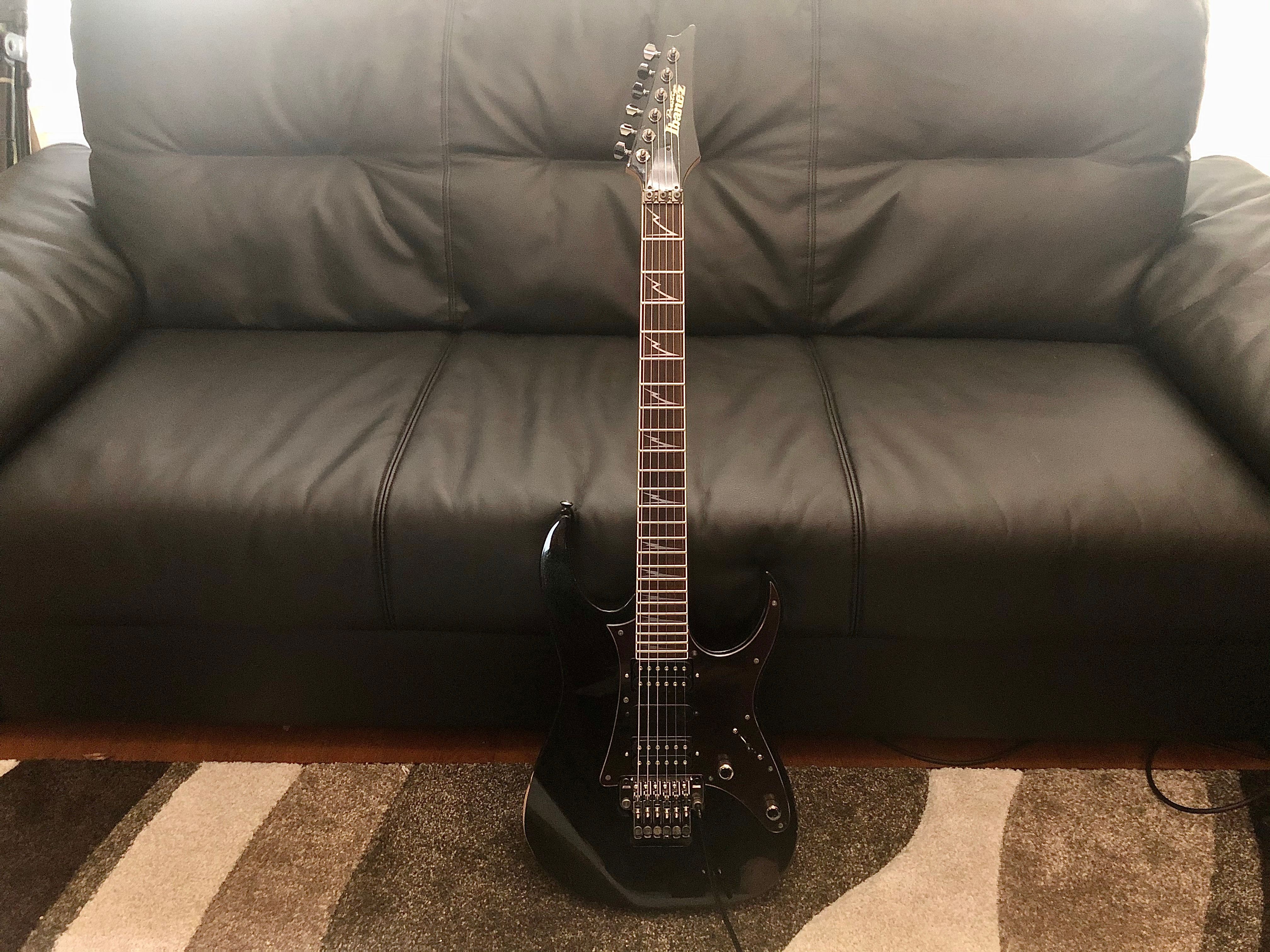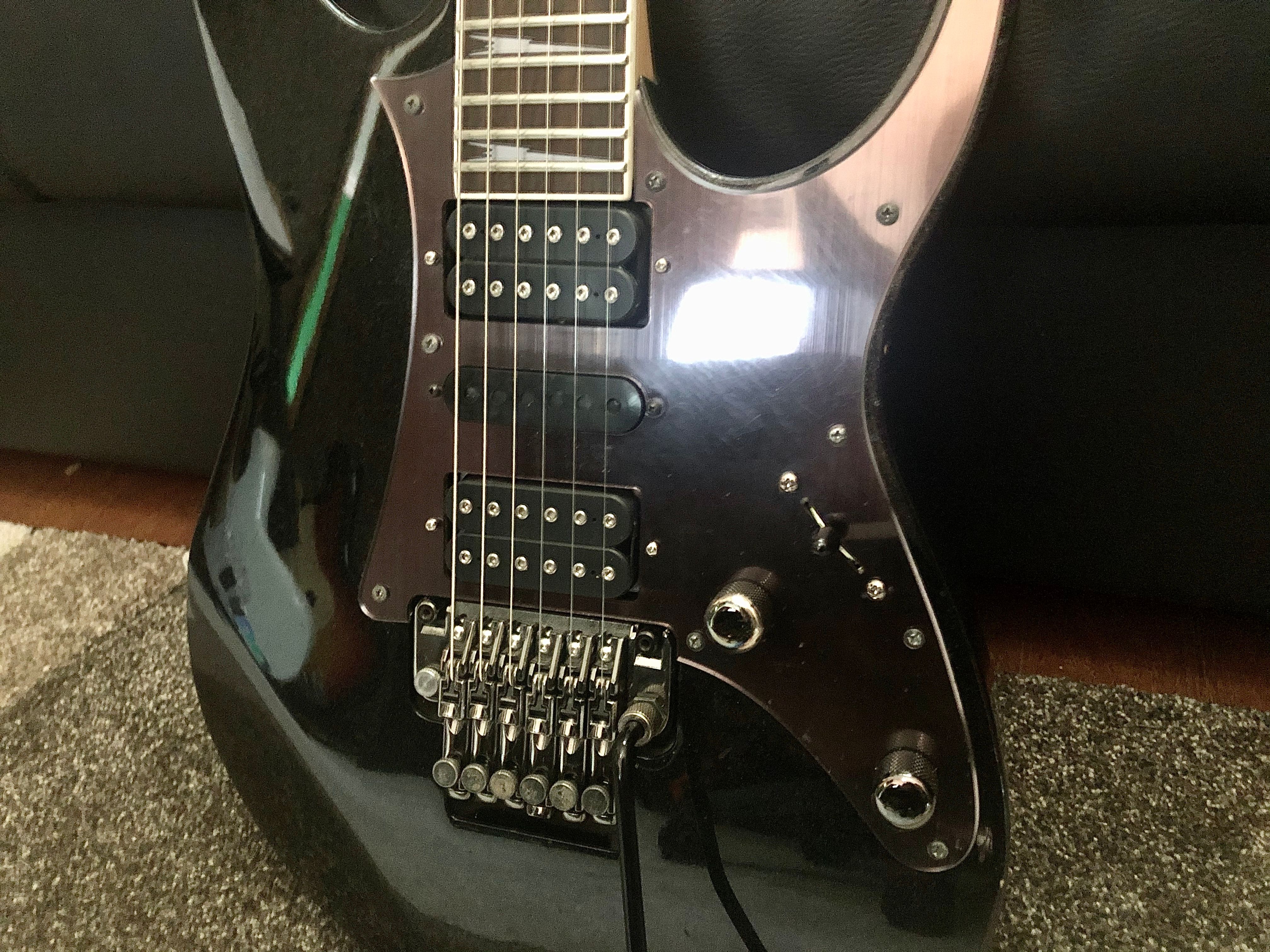 -This guitar is a brilliant Ibanez Prestige from Team J-Craft made in Japan, but like most of my guitars I did a little altering.
-I bought this guitar second hand and the original owner had replaced the original pickups with some Seymour Duncans. I didn't like the sound of those pickups, so I replace them with a Dimarzio Liquifire in the neck and a Dimarzio Steve Vai in the bridge. I added a 3 way switch and removed the middle pickup all together because I know I'd never use a middle pickup in a guitar like this, and I honestly don't like pickups in guitars if I'm not going to use them.--less magnetic pull against the strings and all. So, the middle pickup is just a blank to keep up appearances ;)
#3 '90's/'00's-ish Gibson Les Paul 1960 Classic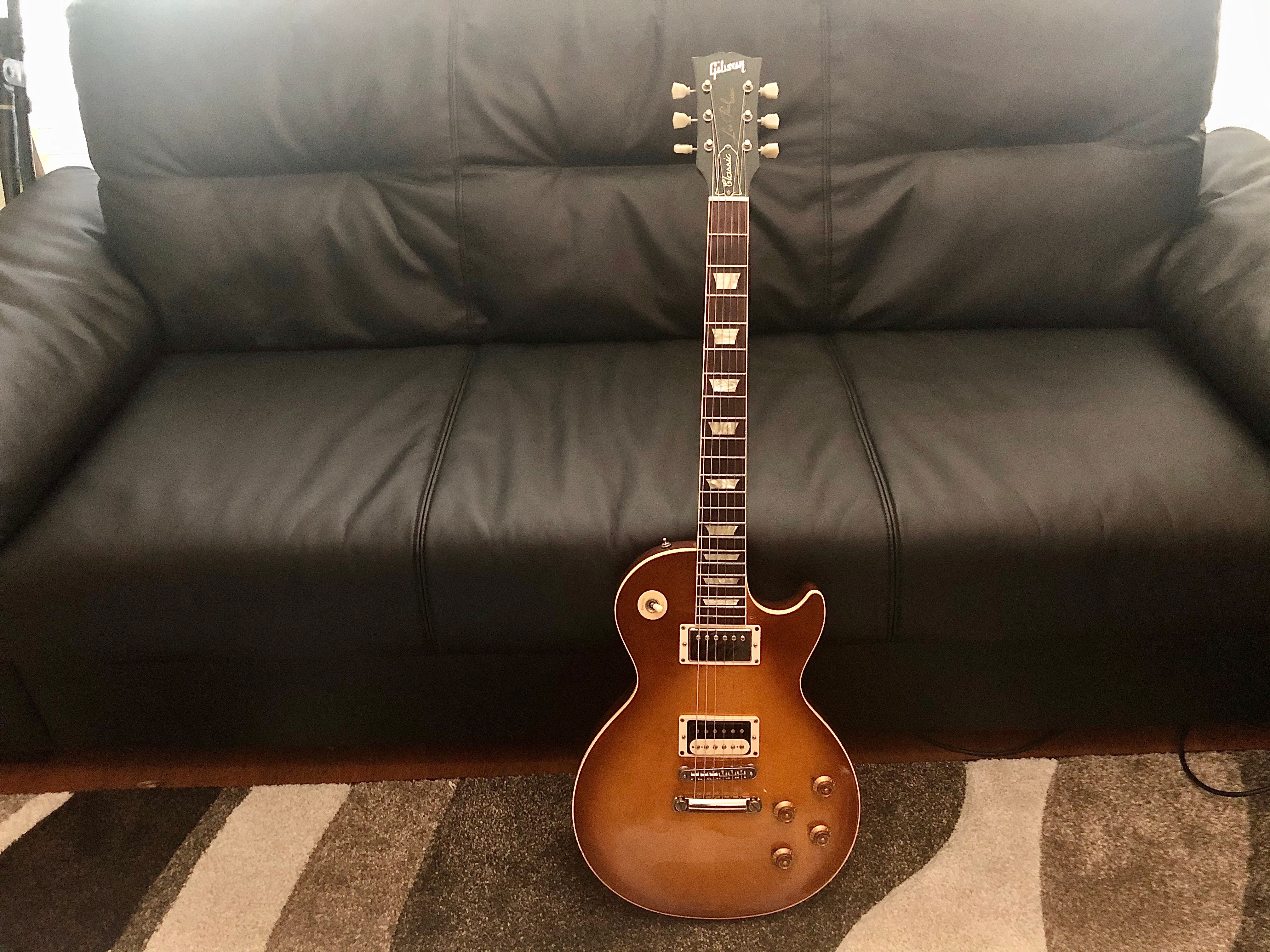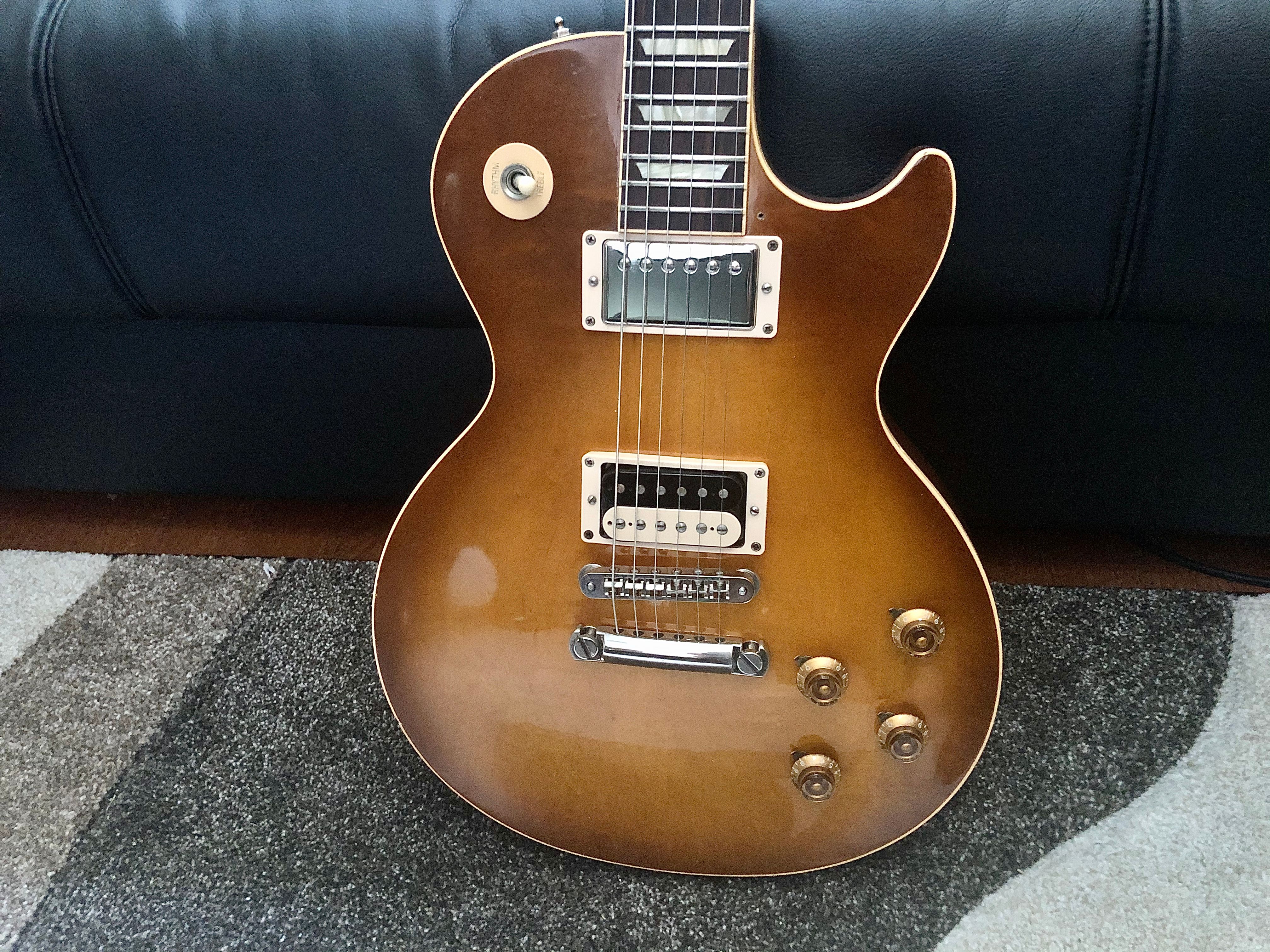 -This Guitar is a late '90's/early '00's Gibson Les Paul 1960 Classic. This guitar has been with me for almost 20 years, and have used it on every recording session I have been a part of since. These series of Les Pauls are often over-looked, due to the cheap ceramic that they are sold with, but this is one of the most comfortable playing Les Pauls I have ever picked up. I replaced the original pickups with a '57 in the neck, a Burst Bucker Pro in the Bridge, added a push -pull coli tap for the bridge and I would put this up agains any Les Paul! (Made after the '60's haha) 
#4 1996 50th Fender American Strastocaster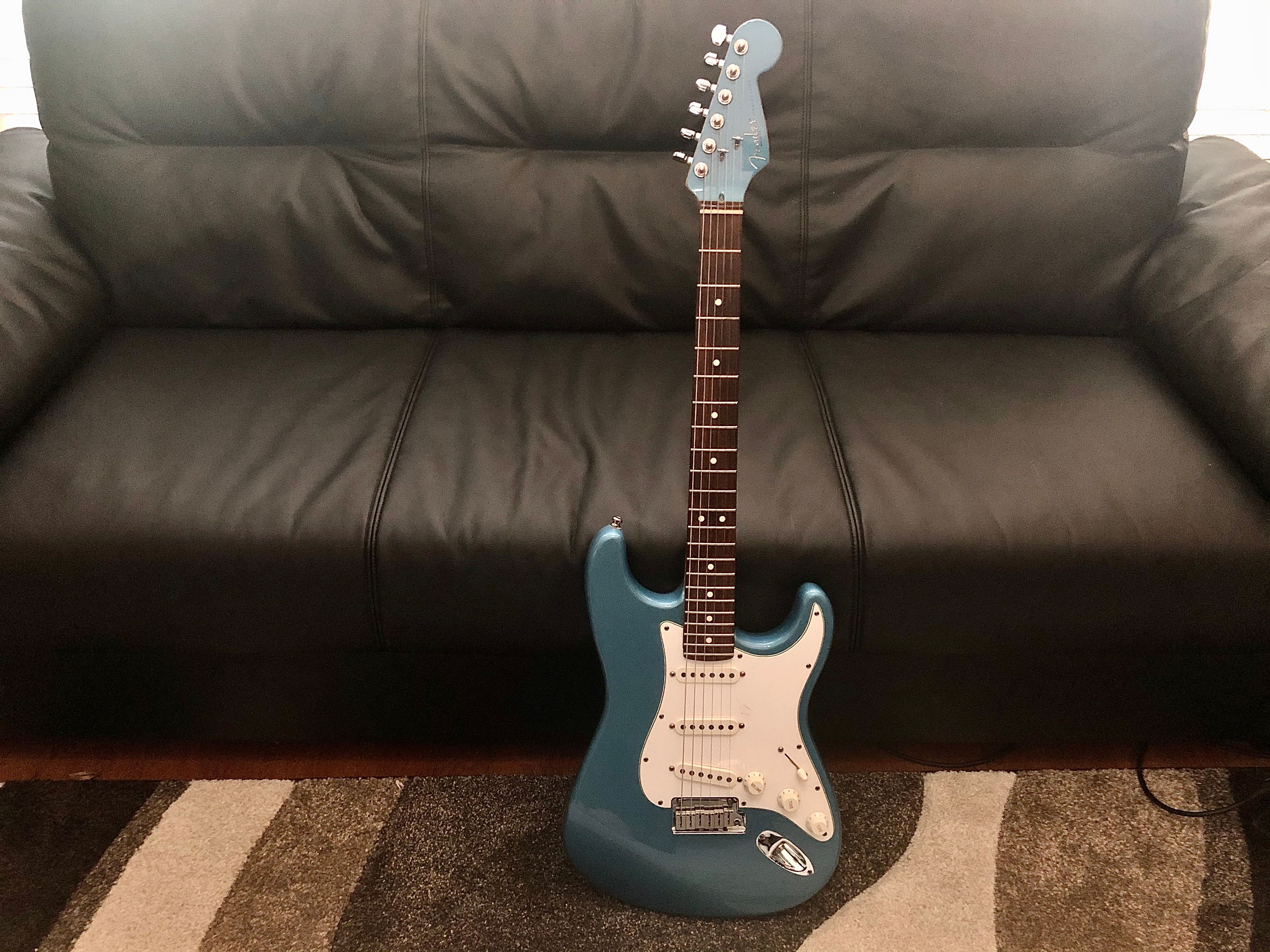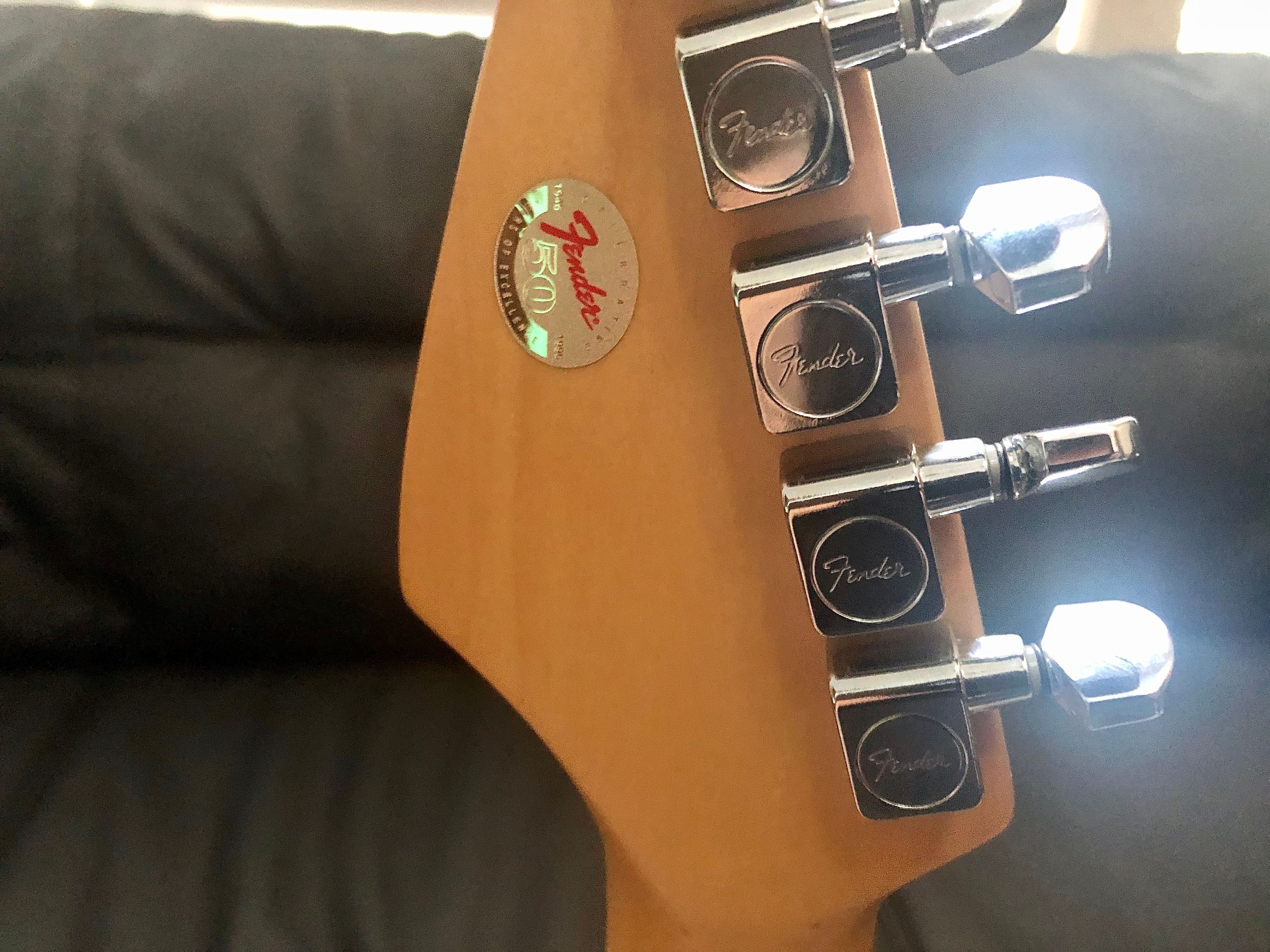 My only 100% Stock guitar! This guitar has quite the story... Long story short: in 1996 I had finally out grown my first beginner guitar and my father gifted me a brand new, limited, American Stratocaster. During a recording session in 2002, the guitar got lifted from the studio. Last year, my father found this guitar in the UK and shipped it to me for Christmas. I know it isn't the exact same one, due to some battle woulds I had placed on the original, but it's in every the exact same guitar. But, the reason I would never bother with the electronics in this guitar, is due to the fact that this guitar is perfect! No matter what I plug it into--it sounds like a Stratocaster should!
#5 '70's/'80's Aria Japan Custom 6840 Jumbo Acoustic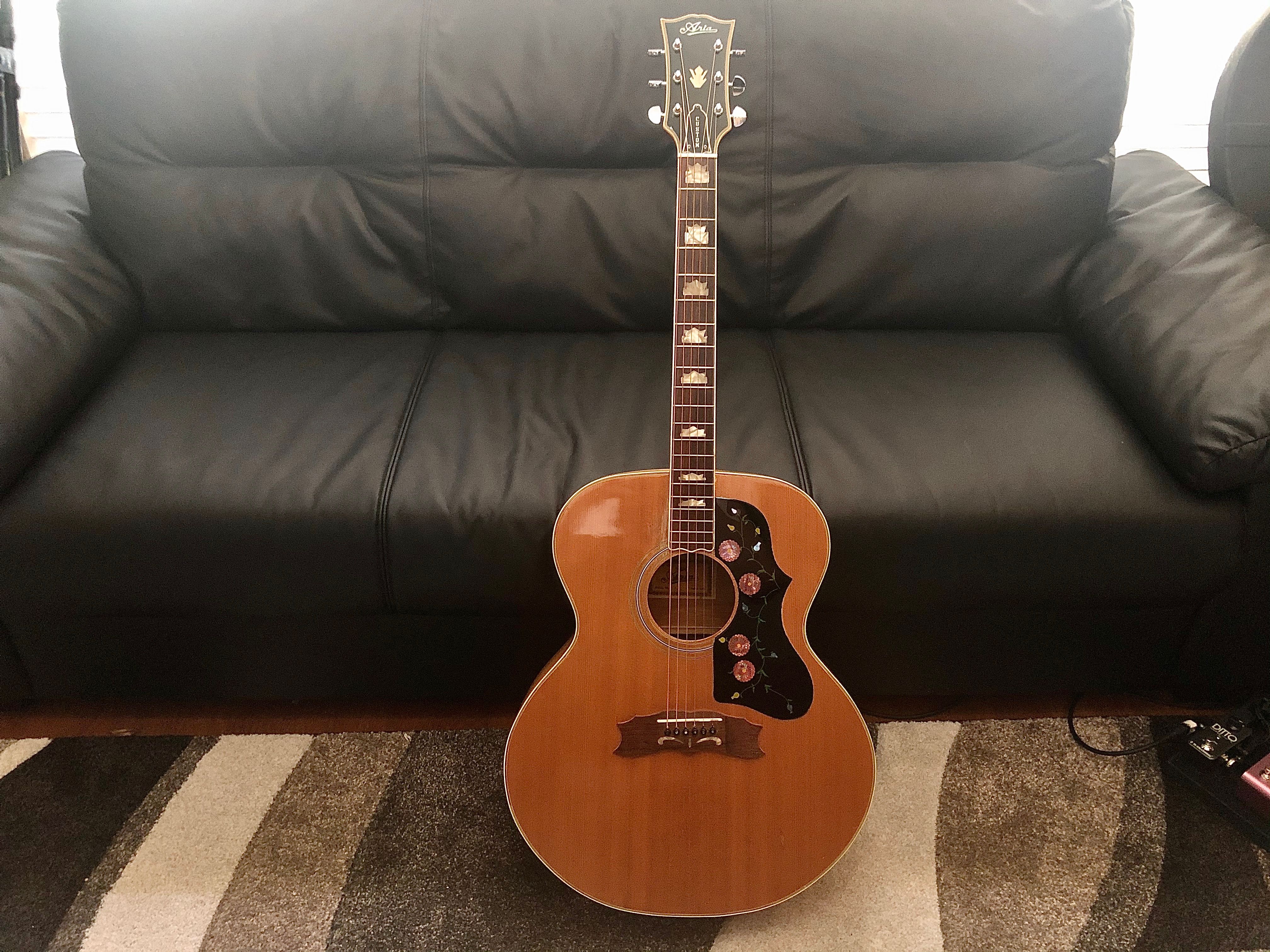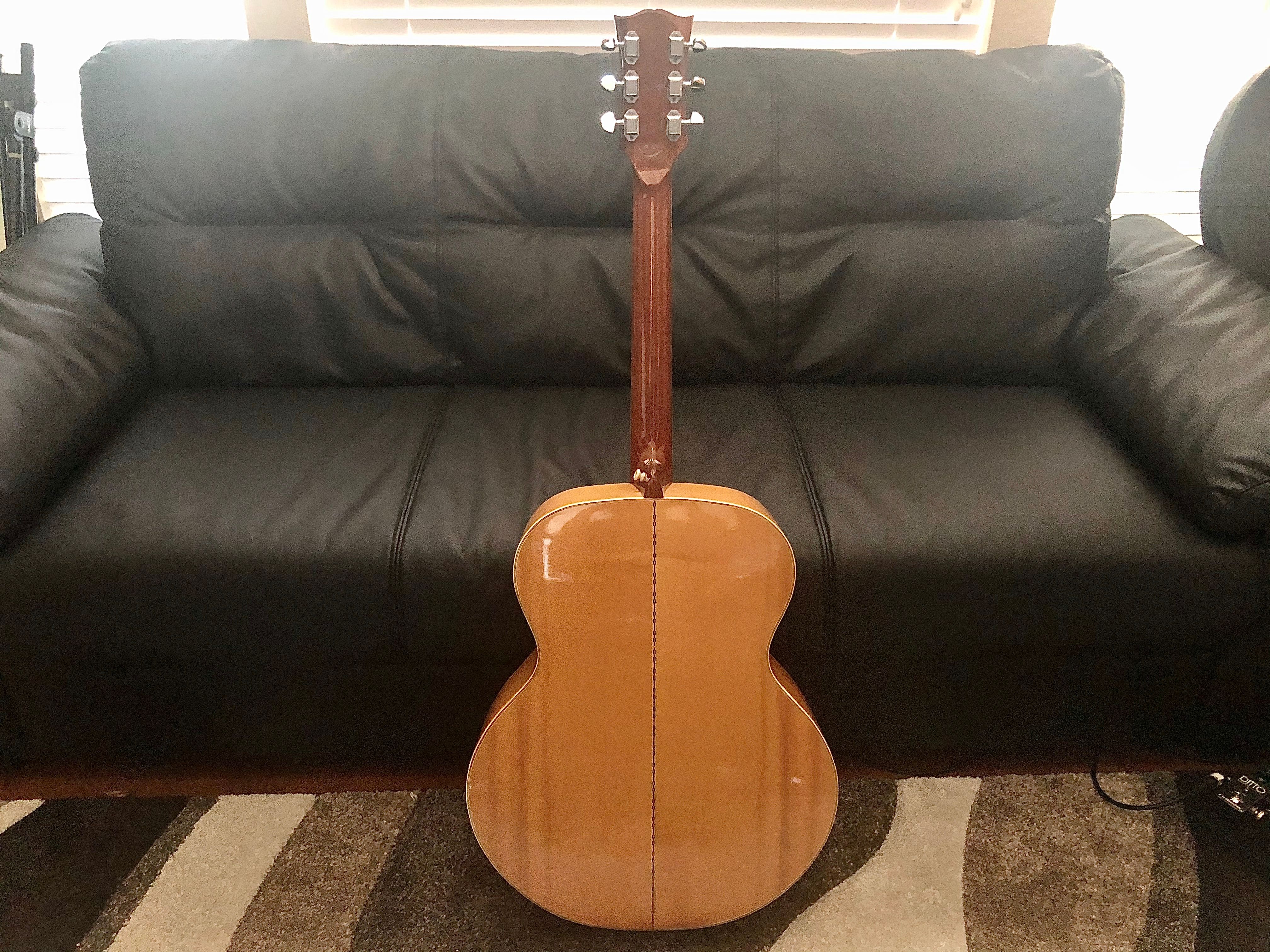 -This guitar is a cool part of guitar history. This is a vintage Japanese "Lawsuit" J-200 from made by Aria. This guitar plays and sounds about as close as one can get to its Gibson counter part at this time. I have written most of the songs on this album one this guitar and this is the only acoustic guitar used on this album. 
-I did install an LR Baggs Element Piezo pickup off of a Gibson hummingbird in it, but I 'd have to be mad to track with it. I use it for recording some ideas sometimes.
There was a #6 guitar, an es335, which I used for the feedback guitar on "Secrets." But, I sold it to a friend of mine because she was in love with it, and they were meant to be together--I couldn't keep those to lovers apart)
GUITAR AMP: VOX AC50CP
MICROPHONES: SE ELECTRONICS V7 X & SHURE KSM 32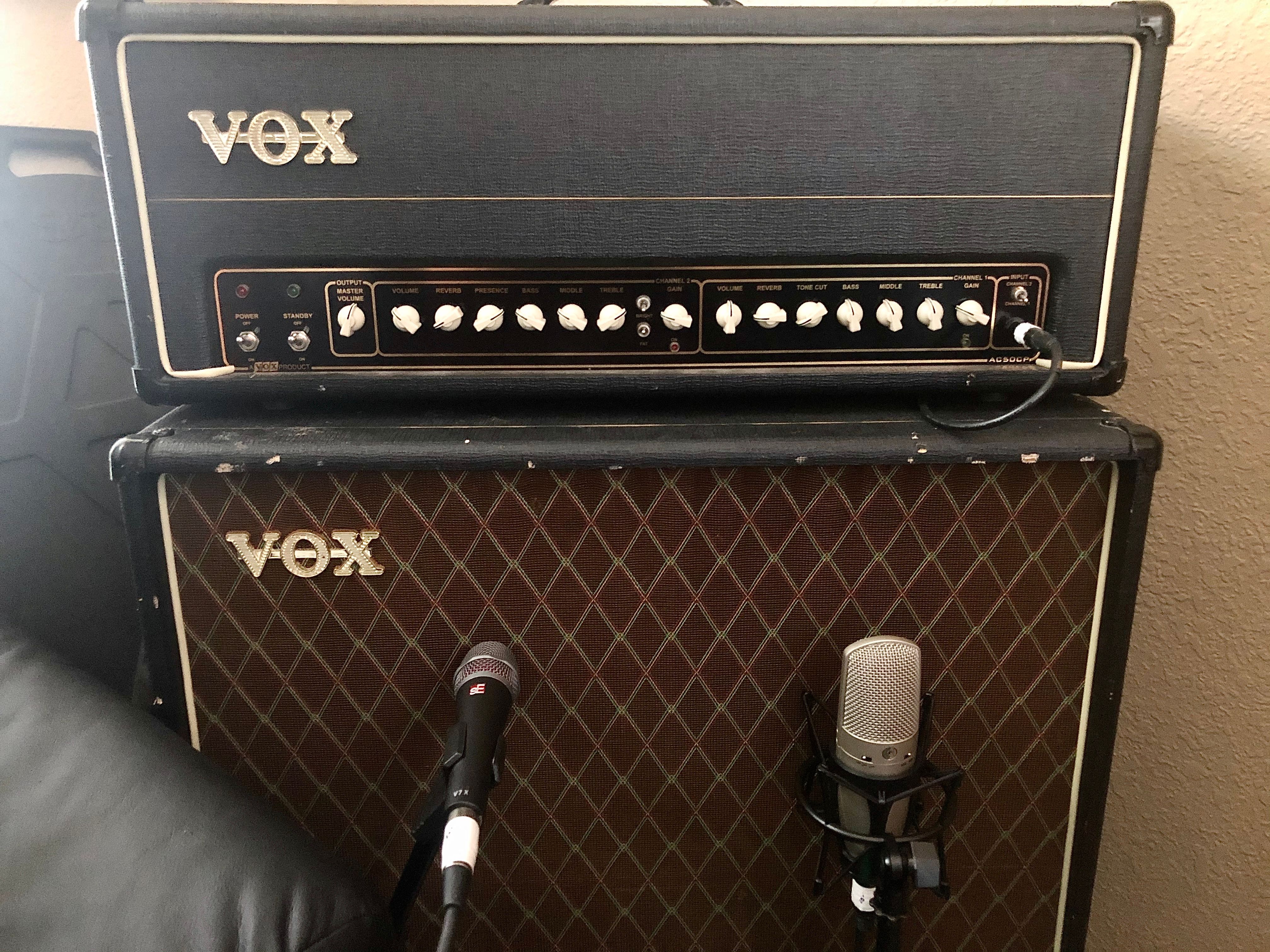 -I originally started tracking guitars with a brand new Vox AC30 I bought off the shelf. I used for all the guitars in "What Are We Fighting For," (the first song I recorded for this album),but when it came down to mixing, it really sounded nothing like my old AC30 (RIP). I felt like I spent more time getting the post eq and compression right then I did actually playing the bloody thing. So, naturally I took it back to the shop and saw this lovely head on the used rack. I already had the matching cab by chance, so I thought it was meant to be.
-This amp is a pretty rare find, and is quite charming. It is a two channel amp, and neither resemble each other--for the most part. The first channel sounds to me what an Ac30 should sound like, and the second channel is reminiscent of a Marshall JCM 800! I replaced the V1 12AX7 tube with a 12AY7 to clean it up a bit and get a little more sparkle, but this amp has been brilliant. It works well with the mismatched speakers I have in the cab which are eminence versions of the Vintage 30s and Greenbacks.
-For most of the guitars, even Acoustic, I am using a Shure KSM 32. I have had a pretty long love affair with these microphones. They are a medium diaphragm microphone that really does capture the best of both worlds in my opinion. What you hear is what you get with these. The other microphone is an SE Electronic V7 X. It's really SE's response to the Shure SM57. I'm always up for trying new things, so I've used them here and there for some guitars among other things. I have to admit they look pretty as well.
Pedal Board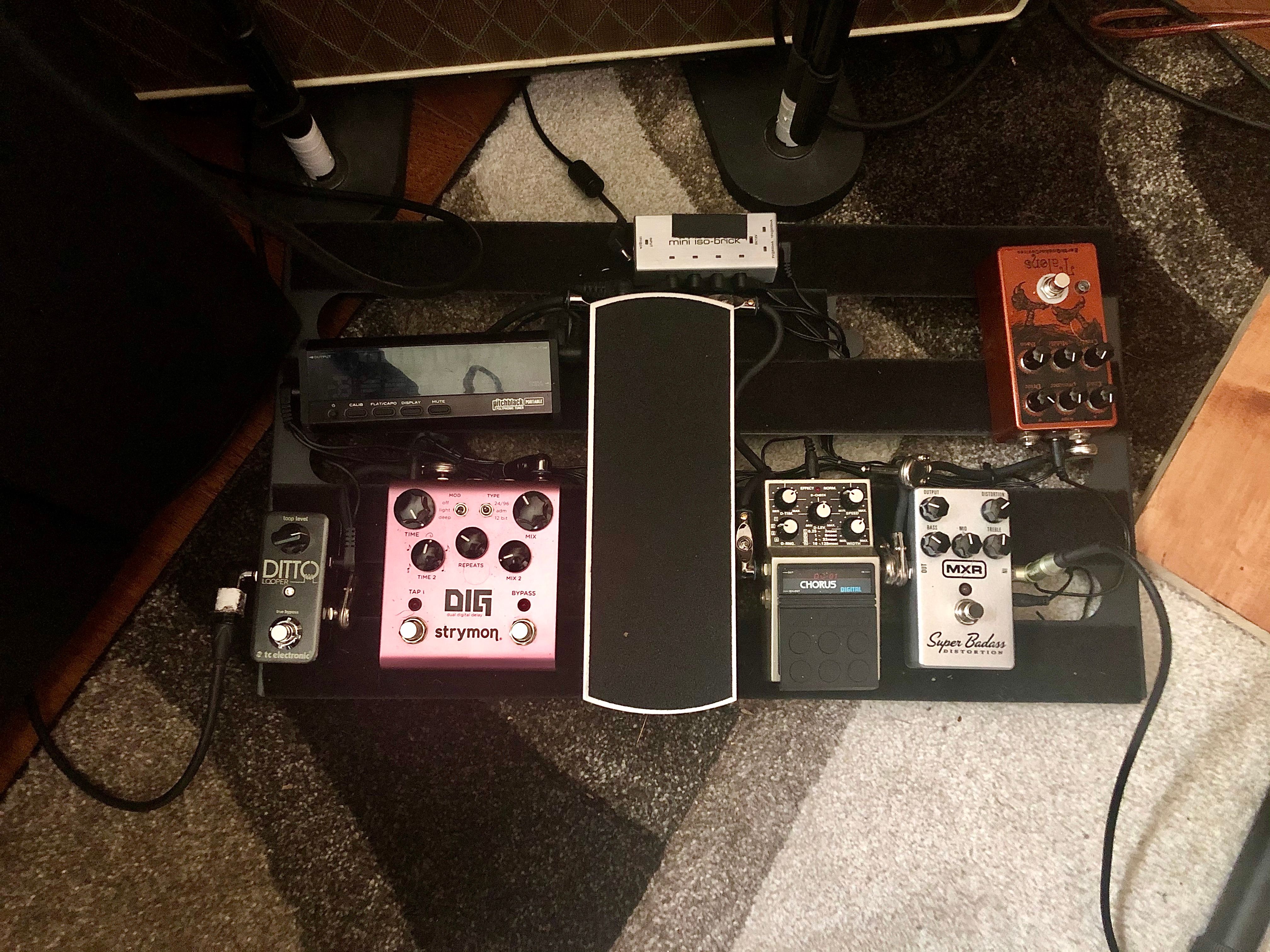 - Earthquaker Talons Overdrive
- MXR Super Badass Distortion
- Maxon DC-01 Chorus
- Ernie Ball VPJR Volume Pedal
- Strymon DIG Delay 
- Korg Pitch Black tuner
- Ditto Looper
If you have any questions or comments, I'd love to hear them!
I could talk gear all day!! Cheers!